Some people, for example, choose to use different types of incense to help focus on their meditation or prayer. Other people may use an altar as a way to organize their spiritual items and make them more accessible.
Regardless of the type of spirituality that you are practicing, it is important for you to find what works best for you and your personal beliefs.
Why Spiritual Objects in your Home can be Beneficial
Spiritual objects are often used to create a sense of peace and calmness in the home. They can be placed in any room, but they are typically found in the bedroom, living room, or kitchen.
The spiritual items for home include crystals, charms, and statues. Crystals are believed to have healing properties and some people believe that they bring good luck. Charms can be worn as jewelry or they can be placed on a wall as decoration. Statues are typically used to represent deities or animals that have spiritual meaning.
There are many different types of spiritual items that can be used to help people with their spiritual journey.
1) Crystals and Stones
Crystals are a type of stone that can be used for healing and protection. They are often used because of their ability to store energy and amplify it.
Crystals have been used for healing and protection for centuries, but they have only recently become popular in the modern era. When people first started using them, they were mainly used as an alternative to traditional methods of treatment. Nowadays, however, crystals are often seen as a way to complement other treatments or as a form of meditation.
2) Sacred Objects of Worship
For many religious people, a home is a place where they can find peace and solace. For some, it is the only place where they can truly feel at peace. Thus, it is no surprise that many people will include their beliefs in their homes by decorating them with items that are sacred to them.
These objects may be different for each person, but there are some common themes in what these items may be. There are also some common ways of displaying these sacred objects on the walls or in cabinets.
3) Plants in Your Home
The plants in your home can have a big impact on how you feel. They can reduce stress, improve moods, and help you sleep better.
You should place plants near windows or in areas with natural light. This is because they need sunlight to grow. You should also make sure that the temperature is not too hot or cold for them.
4) Candle Holders and Fragrances that Enhance Your Spirituality
Candles are a way to bring light into your life and make it more beautiful. In fact, they can be the key to unlocking your spirituality.
Candles have been used for centuries as a way of invoking various spiritual energies during rituals and ceremonies. They are often used in religious ceremonies and rituals because they symbolize light, purity, protection and spirituality.
5. Altar Decor and More
The Hindu altar is a place where the family worships and offers prayers to their gods. The altar is used to offer food and other offerings to the deities.
The altar can be any size, shape or design. It can be in the form of a table, shelf, wall unit or a niche in the wall. The main requirement for an altar is that it has to hold an idol of at least one deity and it has to have a surface on which offerings are made such as flowers, rice grains, fruits etc.
The most common form of Hindu altars is those that are small in size with a single deity idol and small offerings and those that are large with many deities idols with elaborate decorations such as flowers, incense sticks, etc.
Hindu altars can also be designed according to personal preferences.
How to Choose Which Spiritual Item is Right for You
Spiritual items are a great idea for a gift for someone you care about. It's a thoughtful, personal and meaningful way to show them how much you care.
There are many different spiritual items out there and it can be difficult to choose which one is the best one for you. There are three things that you need to consider when choosing which spiritual item is right for you:
-The person's zodiac sign
-The person's personality type
-The person's interests
A Spiritual Journey and the Benefits of Meditation
It is often difficult to find the time to meditate in a busy world. However, with meditation, we can find peace and clarity of mind. It helps us live in the present moment and be aware of what we are doing.
Meditation also strengthens our spiritual journey by helping us connect with our inner self and spirituality. It helps us connect with the divine energy that surrounds all of us. Meditation also helps people to be more mindful and compassionate towards other people's feelings and problems.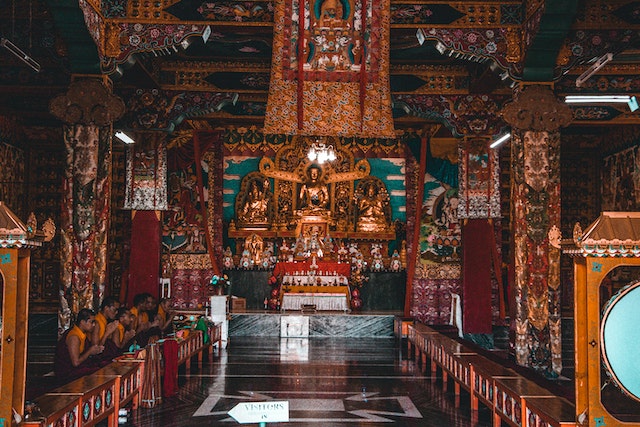 Different Forms Of Prayer And Which One Is For You
There are many different types of prayer. Some people may think that there is only one type of prayer, but this is not the case. There are many different types of prayer and you can choose the type that best suits your needs.
Prayer can be seen as an act of communication with a higher power or deity, either to express thanks or ask for help in times of need. Prayer can be done in any setting, including public gatherings and private homes, by people who are religious or spiritual but not necessarily part of organized religion.
What Types of Spiritual Goods Should You Have in Your Home or Apartment?
Spiritual goods are not just for temples. They have a place in our homes as well. Think about it, we all need to calm ourselves down and be at peace with the world. We need to pray, meditate, and connect with our spiritual side in order to find inner peace.
Some of the spiritual goods that you should have in your home or apartment are:
– Incense
– Candles
– Crystals
– Statues
FAQ Section:
How can spirituality items help people?
Spirituality items can help people in many ways. They can provide a sense of peace and calmness for those who are going through difficult times. They can also help people to find their purpose and meaning in life.
There are many different kinds of spiritual items that people use, including prayer beads, rosaries, prayer books, and incense. These items have been used for centuries by many different cultures to help with stress, anxiety, depression, and other mental health issues.
What are some of the spiritual benefits of having a spirituality item?
Spirituality items are a way of connecting with the spiritual world. They are a form of connection to the divine and can be used for many different purposes.
There are many ways to use spiritual items, and they can be used for different purposes. For example, one may use them to pray or meditate, or as an object of meditation. Others may use them for healing and cleansing rituals or other spiritual practices such as divination.
The benefits of having a spiritual item vary from person to person, but in general, they offer peace of mind while also helping us connect with the divine world around us in a way that is not possible without them.
How are spirituality items used?
Many people use spiritual items to help them in their everyday lives. Some of these items can be used for protection, healing, or even to bring good luck.
A voodoo doll is a type of spirit item that is used for a variety of purposes. Voodoo dolls are often seen as being used for hexing or as an outlet for anger and frustration. The person who creates the doll will often do so by using pins, needles, and other sharp objects to inflict pain on the doll in order to inflict pain on the person who they feel deserves it.
What is a common use of spirituality items?
A common use of spiritual items is to help people feel more connected to the divine.
What are some ways to show spirituality?
Spirituality can be shown in many ways. It is not limited to any one religion or belief system. It can also be shown through art, nature, music, and more.
The roots of spirituality lie in the human need for meaning and purpose, which is a universal human trait.
How can spirituality be good for you?
In the past, spirituality was not considered a topic that could be studied by science. However, modern neuroscience has shown that spirituality can have a positive impact on our health.
Spirituality is the belief in something that is bigger than oneself. It can be religion or it can be just being aware of the world around you and how everything is interconnected.
It has been found that people who practice spirituality are more empathetic and less judgmental than those who do not practice spirituality.
The effects of practicing spirituality are not only limited to ourselves but also extend to others around us as well.
What are some spiritual activities to do?
Spirituality is the belief in the existence of a spiritual world or life force or the immortality of an individual soul. Spirituality can be defined as a way to help people find meaning and purpose in their lives.
There are many ways to engage in spirituality, including meditation, prayer, and yoga.
What is the importance of spirituality in life?
It is not possible to live a life without spirituality. It is the part of our lives that gives us a sense of meaning and purpose.
Can spirituality help with anxiety and depression?
Spirituality can help with anxiety and depression in a variety of ways.
One way is by providing an outlet for people to express themselves. It also provides a sense of community and belonging that can be difficult to find elsewhere. Spirituality has been shown to have a positive effect on mental health, especially when it comes to anxiety and depression.
Conclusion:
Spirituality products are a huge industry. With the rise of spirituality and mindfulness, people are looking for the right products to help them on their journey.