If you have just moved into a new house and realize that your living room may be a little too small than you imagined, then you will have no choice but to make it work somehow by decorating it well. If you can redesign the space to make it larger than it looks and create a space that you can enjoy and entertain in then you will soon forget you even had a small living area, to begin with. Read on to find out some simple and affordable ways to make your living area look larger. Let's get started!
Pick Light Colours
Light colours usually occupy less weight on your eyes thus opening up the room and space. It's best to use glass and thin-legged tables as much as you can as this use up less space and you will be able to see straight through. Dark-coloured furniture, woods or colours have the opposite effect and can constrict the room a lot. Keep to a cool palette but add some bright, warm colours as accents. As a rule of thumb, cooler colours tend to recede allowing the room to look brighter and more spacious.
Think About The Whole Room Including The Ceiling
It's easy to just consider the square footage of the room instead of realizing that the room also consists of the ceiling. As you walk in if you can let your eyes wander all the way from the floor to the ceiling, this means you can create an even bigger area. If you have long windows, make sure that the blinds or curtains run all the way to the floor. This creates the illusion of length. Furthermore, add lamps that are tall and slender, and paintings and mirrors should always be hung vertically the tall way.
Scaling Down The Furniture
Since the room is small, it is important to choose furniture that matches. Pick chairs that don't have arms or have thinner legs such as ottomans or loveseats. These give more space to the room. You can also consider a bench instead of a conventional coffee table so that it takes up less space. Make sure that you don't over-clutter with small pieces of furniture. Use one or two attractive accent pieces and that should help brighten up the room elegantly. Another tip that is useful is to make use of furniture with multiple functions. For example, an ottoman in the centre of the room can serve as a coffee table, extra seating or even a storage item to store your magazines and books. Getting tables with wider legs helps you see through to the other making it less compact. This has an appeal to the overall effect of making the room look larger.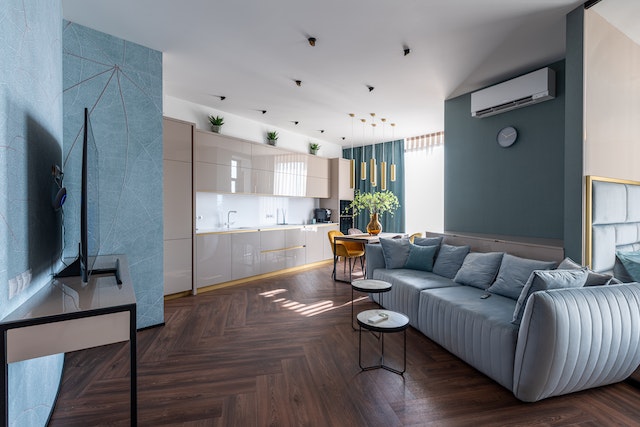 Use A Large Carpet
A large printed carpet ideally with lines will give the space more light and open it up more. If you can get a carpet that is large enough to accompany the main pieces of furniture such as a sofa and coffee table, then this should do the trick.
FAQ Section:
What is the size of a small living area?
We can say that small living areas are a growing trend in the world. They have become more and more popular in the last few years.
Small living areas are not only a trend, they are also an important part of our lives. We use them quite often when we need to sleep, eat, entertain ourselves or just relax. The average size of a small living area is about 500 sq ft (45 m2). This is about half of an average living room size and smaller than a typical office at home or office space. This is why we need to know how big it actually is!
How much space does a small living area need?
Let's look at a small living area. It has a small kitchen, a living room and a bathroom. What does it need? Well, for a small living area, the kitchen needs to be big enough to accommodate all of your cooking needs. The bathroom should be large enough to comfortably fit yourself and your family in there.
How much space does a small living area need for furniture?
The living space should be designed with furniture that can be easily moved and rearranged. This is especially important for small spaces, such as a bedroom.
What are the possible benefits of having a small living area?
A living area is a space that provides comfort and privacy. It also has the ability to improve the health of an individual. A living area may be a bedroom, an office or even a small room in your house. It can be used for daily activities such as cooking, sleeping and relaxing.
A small living area is widely popular for people who have smaller homes or apartments. It's also useful if you are not able to afford a large house or apartment in which you would like to live with your family. If you don't have enough space for your kitchen, then a small living area may be sufficient as it can provide enough space for cooking and preparing meals while having more than enough space for storage of personal items such as clothes and other items that you use on a daily basis.
What do small living areas have to do with larger living areas?
This is an interesting topic that I have not seen discussed much in the copywriting community. It's important to understand what are the pros and cons of living in a small or large space.
Small living areas can be really beneficial for people who want to save money on rent. They can be more affordable than bigger apartments because they don't require as much maintenance and upkeep. On the other hand, they are also more difficult to maintain because of their smaller size and lack of space for storage and extra utilities like air conditioning.
What is the difference between a small and a large living area in regard to an apartment or house?
With the increase in the number of people living in Falconview apartments colorado springs co and houses, we have to consider the size of living area that we can afford.
We have to consider the size of the living area that we can afford. We also need to know how many people live in our apartment or house. The bigger the living area is, the more people will be living there.
The bigger the living area is, the more people will be living there. As such, we should not just consider small apartments or houses but also think about how big a house can accommodate all kinds of people and their needs.