Monsoon season is a time of much-needed relief from scorching summer temperatures, but it also brings with it the dramatic and sometimes dangerous phenomenon of thunderstorms. While thunderstorms can be awe-inspiring to watch from the safety of your home, they can also pose serious risks, particularly when it comes to lightning. In this comprehensive guide, we will explore the science behind monsoon thunderstorms, the dangers of lightning, and most importantly, how to protect yourself from lightning strikes during this season.
Understanding Monsoon Thunderstorms
What Causes Monsoon Thunderstorms?
Monsoon thunderstorms are a common meteorological occurrence in regions like South Asia and the southwestern United States. These storms are primarily driven by the temperature and moisture differences between land and sea. During the day, the land heats up faster than the adjacent bodies of water. This temperature difference creates low-pressure systems that draw moist air from the sea inland. As this warm, moist air rises and cools, it condenses into clouds and forms thunderstorms.
The Role of Lightning in Thunderstorms
Lightning is a natural electrical discharge that occurs during thunderstorms. It is a rapid and powerful flow of electrical energy between the charged regions of a thundercloud and the ground. Lightning serves to balance the electrical charges within the storm, and it can take various forms, including cloud-to-ground lightning, cloud-to-cloud lightning, and intra-cloud lightning.
The Dangers of Lightning
Lightning is a breathtaking natural phenomenon, but it can also be deadly. Understanding the risks associated with lightning is crucial for your safety during monsoon season:
Direct Strikes:
A direct lightning strike is when lightning hits a person or object directly. It can cause severe injuries or even death.
Side Flashes:
Lightning can jump from its primary target to nearby objects, including people. These side flashes can also be dangerous.
Ground Currents:
When lightning strikes a tree, building, or another object, the electrical current can travel through the ground. If you are in close proximity, you can still be injured by ground currents.
Conduction:
Metal objects, water, and wet surfaces are excellent conductors of electricity. Holding or standing near such objects during a lightning storm can increase your risk of being struck.
Lightning Safety Tips
To protect yourself from lightning during monsoon thunderstorms, follow these essential safety tips:
Stay Informed:
Monitor weather forecasts and warnings. Many weather apps and websites provide real-time updates on thunderstorms in your area.
Seek Shelter:
The safest place during a thunderstorm is indoors, away from windows and doors. If you're caught outside, seek shelter in a sturdy building or vehicle with a hard roof and sides.
Avoid Water:
Stay away from bodies of water, including pools, lakes, and rivers. Lightning can easily travel through water.
Avoid Tall Objects:
Lightning tends to strike the tallest objects in an area. Avoid open fields, hilltops, and tall trees during a storm.
Stay Away from Electronics:
Refrain from using wired electronics and avoid plumbing fixtures, as they can conduct electricity. Unplug sensitive electronics to protect them from power surges.
Wait for the All-Clear:
Wait at least 30 minutes after the last clap of thunder before leaving your shelter. Lightning can strike even after a storm appears to have passed.
Equip Your Home:
Consider installing a lightning rod or surge protector in your home to protect against lightning damage.
Protect yourself from lightning indoors
Stay away from windows and doors.
Avoid using wired electronics.
Wait for the all-clear before leaving shelter.
Protect yourself from lighting outdoors
Seek shelter in a sturdy building or a hard-topped metal vehicle.
Avoid open fields, hilltops, and tall trees.
Stay away from water bodies, including pools, lakes, and rivers.
Do not hold or use metal objects, and avoid contact with wet surfaces.
Monitor weather forecasts and seek shelter well before a storm arrives.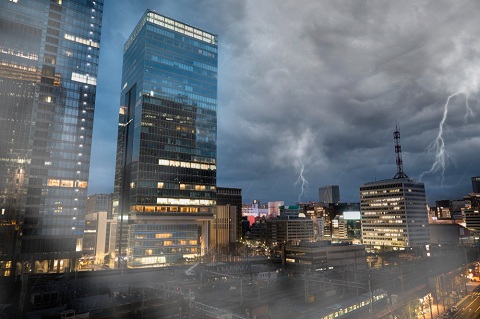 What to do if injured by lighting ?
If you or someone you're with is injured by lightning, it's crucial to take immediate action to ensure safety and provide appropriate care. Lightning strike victims can experience a range of injuries, from minor to severe. Here's what to do if someone is injured by lightning:
Ensure Safety First:
Before approaching the injured person, make sure the area is safe from ongoing lightning strikes.
If lightning is still active in the area, wait until it's safe to approach.
Call for Emergency Help:
Dial emergency services (911 or the appropriate emergency number in your location) immediately. Lightning strike victims often require professional medical attention.
Check for Responsiveness:
Approach the victim cautiously and check for responsiveness. Gently tap the person and ask if they are okay. If there's no response, assume they are unconscious.
Perform CPR if Necessary:
If the victim is unresponsive and not breathing or doesn't have a pulse, initiate cardiopulmonary resuscitation (CPR) immediately if you're trained to do so. Continue until professional help arrives.
Check for Injuries:
Lightning strike victims can suffer from burns, fractures, and other injuries. Carefully assess the person for any visible injuries.
Check for entry and exit wounds where lightning may have entered or exited the body. These may appear as burns or blisters.
Pay attention to any signs of electrical injuries, such as disorientation, memory loss, or confusion.
Provide First Aid:
If the person has burns, apply sterile dressings if available or clean, non-stick bandages. Do not use adhesive bandages directly on burns.
Elevate any injured limbs gently if fractures are suspected, but avoid moving the person unnecessarily to prevent further injury.
Keep the Victim Calm and Reassured:
Lightning strike victims may be disoriented or anxious. Offer reassurance and keep them as calm as possible.
Wait for Medical Professionals:
Even if the person appears to recover, they should still receive a medical evaluation. Lightning strike injuries can sometimes have delayed or hidden effects.
Prevent Hypothermia:
Lightning strikes can affect the body's temperature regulation. If the weather is cold or wet, cover the victim with a blanket to prevent hypothermia.
Do Not Delay Medical Care:
Lightning strike injuries can be deceiving, and some symptoms may not manifest immediately. Always seek medical attention, even if the victim appears fine initially.
Remember that lightning strike victims can have both visible and internal injuries, and the effects of a lightning strike can vary widely. Prompt medical care is crucial to assess and address any potential complications. While waiting for professional help, your primary goal is to ensure the victim's safety and provide basic first aid as needed.
Suitable Frequently Asked Question and answer about Monsoon Thunderstroms
What attracts lightning?
Lightning is attracted to tall objects and conductive materials like trees, buildings, and metal structures due to their height and conductivity.
Who gets struck by lightning the most?
People who spend more time outdoors, such as farmers, construction workers, and golfers, are more likely to get struck by lightning.
Can WIFI attract lightning?
No, Wi-Fi does not attract lightning. Lightning is primarily attracted to taller structures and conductive materials.
What happens if lightning strikes near you?
If lightning strikes near you, you may experience a loud noise (thunder), a bright flash of light, and potential shock waves. Seek shelter immediately; it can be dangerous.
Should you run during lightning?
No, running during lightning is not safe. Seek shelter indoors or in a hard-topped vehicle instead.
Should I turn TV off during thunder?
It's a good idea to turn off and unplug electronic devices, including TVs, during a thunderstorm to protect them from potential power surges caused by lightning strikes.
Conclusion
Monsoon thunderstorms are a magnificent display of nature's power, but they should be treated with respect and caution. Lightning is a significant hazard during these storms, and understanding how to protect yourself and your loved ones is paramount. By staying informed, seeking shelter, and following safety guidelines, you can enjoy the monsoon season while minimizing the risks associated with lightning strikes. Remember, when it comes to lightning, it's always better to be safe than sorry.